Contact Highland Secrets of Suzanne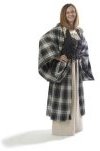 We are dedicated to providing you the finest quality products and services for your complete satisfaction.
For copies of our printed instructions or guidelines, please view our pages on How to Wear the Highland Secrets' Great Kilt, Attaching a Penannular, or the Care and Cleaning of our Kilts and Scottish Clothing.
To order our products or get further details, please contact us, with no obligation. Before doing so, you may wish to make note of the Clothing Measurement and Sizing information pertaining to the item(s) you are interested in. You will be asked to provide these details when you place your order. To view these details, Click Here.
Please e-mail your orders and inquiries to sales@highlandsecrets.com and we will be happy to get back to you, or if you wish, call us at 585-314-8497. We look forward to serving you.
Yours truly,
Highland Secrets of Suzanne.